EMS CONSULTING SERVICES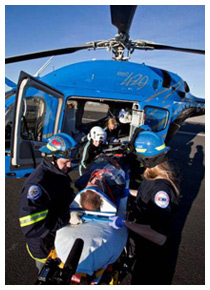 Performance Aeromotive Inc offers Helicopter and Fixed Wing EMS program development consulting, and has worked closely with private companies and Governmental officials who wish to deploy the most recent state-of-the-art equipment and aircraft, and establish functional and proven EMS capabilities.
Our team has helped bring to market new EMS operations in the USA and overseas.
Performance Aeromotive works closely with clients to understand their needs to fully develop an efficient and professional operation, and can act fully on the client's behalf as the project developer, handling all aspects of area planning, operations management, pilot and maintenance training, consulting and systems engineering.
Performance Aeromotive has strong support from industry manufacturers, such as Bell Helicopter, Airbus (Eurocopter), Leonardo (Agusta), and Gulfstream. These industry resources assure that we are able to select airframes that are properly suited to the customer's geographical and environmental needs.
Performance Aeromotive can even develop a turn-key, US Licensed operation for customers who need an off-the-shelf solution with minimal direct involvement.
Contact Performance Aeromotive EMS Consulting.